A CNC machine made by shapers for shapers!
Technical Specifications
– Board lengths from 4'0'' to 7'0''
– Maximum board width 28''
– Cutting time for a complete board < 20min
– 3 x 2 meter floor area needed
---
Heavy Duty Belt Drive System
A custom heavy duty belt drive system is used in both the Y and X axis. This gives the Boardboxx extreme strength, speed and precision. For the Z-axis a ball screw is used. Ball screws are known for low friction and long lifetime.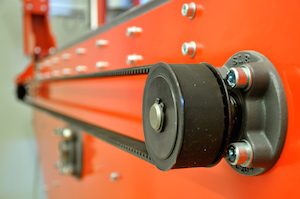 HIWIN Linear Guideways
This is one of the best linear guideways on the market. It is designed for high accuracy, large capacity, high reliability and excellent operating characteristics. It has sealed carriages, which is perfect for the working environment. HIWIN rails are used for every linear motion(X, Y and Z).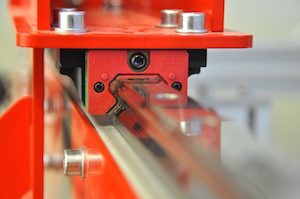 High Speed Foam Cutter
The advantages of this cutter over others, is it's high feed and speed, perfect surfaces and a much softer cutting noise. The cutter is driven by a water-cooled 2200W spindle.
Unique 4th Axis
The first surfboard CNC-machine with a simple board flipping frame. Flipping a board from deck to bottom has never been so easy. Exact position of the board is remained during flipping, which makes sure the boards cuts (deck and bottom) fit together perfectly.
Dust extraction
An fully integrated dust extraction is used to reduce waste in the machine to a minimum. More time to cut boards and less time cleaning the machine!